New Jersey Child Custody Modification
Determining where your child or children will live after a divorce is difficult. Even after you reach an agreement, you might find that you have to make changes. In such cases, you should look for a child custody modification lawyer in New Jersey who can help you find the best solution for your child's future.
Why You Might Need to Modify Child Custody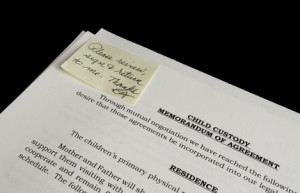 The circumstances of your child's life are likely to change after your divorce, as are the circumstances of your own life. These changes, however, are rarely accounted for in a guardianship agreement. If you find it necessary to move or if your child's life changes, you may need to modify your agreement.
In other cases, the changes may come due towards the actions of the other parent. The other parent may not be able to provide a stable environment for the child, or you might wonder about your child's safety at his or her home. In these cases, seeking out a child custody attorney becomes a necessity for your child's well being.
Why You Need an Attorney to Deal with Child Custody Changes
You may have come to your original guardianship agreement without the aid of a lawyer.However, if you are looking to modify those arrangements, an attorney's help is a necessity. While initial agreements might be amicable, the changes may be harder to do.
Changing these child custodianship arrangements may result not only in negotiations with your ex-spouse, but might also require that you go to trial. A good legal counsel will fight for your child's best interest and help to represent your needs. Your ex-spouse will almost certainly seek out the help of a law firm to stop the arrangements from being changed, so you need to make sure that you are properly represented.
Finding a Child Custody Modification Lawyer in Ocean, Monmouth and Middlesex County
Once you decide to alter your custodianship arrangement, you have to find a legal counsel who will best represent you. Many lawyers practice family law, but only a small subset of law professionals specialize in custody agreements. Working with a legal adviser who has experience with child custody arrangements requires contacting references and speaking with individual lawyers.
Do not be fooled by advertisements – you have to speak to an attorney to learn more about his or her ability to handle your case. You can check online to see if he has handled cases similar to yours in the past, and checking with friends and families for recommendations is always a good idea. It is only during an initial meeting, though, that you are able to determine how well you will be able to work with a given lawyer.
You do not have to deal with your custodianship issues on your own. If you need help dealing with the revisions of your guardianship arrangements, you should always contact a qualified attorney. Call the law offices of Goldstein Law Group today to get the help that you deserve. Your child's future demands that you take quick action.