New Jersey Child Custody Modification
Determining where your child or children will live after a divorce can be one of the most difficult aspects of resolving your case. Even if you and your ex-spouse are able to reach an agreement, you might still find that you have to make changes in the future. In such cases, you should look for a New Jersey child custody modification lawyer who can help you pursue a child custody modification, and who will work to find the best possible resolution for your child's future.
Why You Might Need to Modify Child Custody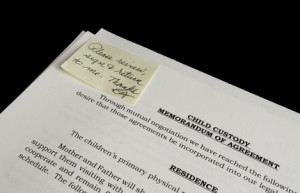 The circumstances of your child's life, and the circumstances of your own life, are likely to change after your divorce is finalized. These changes are often overlooked, and many times are not considered or accounted for in a custody and parenting time agreement. If you find it necessary to move, for example, you may need to modify your agreement.
In other cases, the need for changes may come about as a result of the actions of your child's other parent. It may become clear only after the agreement is entered into that the other parent is not actually able to provide a stable environment for your child, or is failing to properly support the child's education, health, or overall wellbeing. You also may find that there are concerns about your child's safety at his or her home. In these types of situations, seeking out an experienced child custody modification attorney in New Jersey becomes a necessity for pursuing a modification to better suit your child's well-being.
Why You Need an Attorney to Deal with Child Custody Changes
You may have reached the terms of your original custody and parenting time agreement without the aid of a lawyer. However, if you are looking to modify those arrangements, an attorney's help is a vital resource. Even if you had the assistance of an attorney in order to reach the initial agreement, it can be helpful to meet with a knowledgeable child custody attorney to discuss what you will need to show the court in order to have your request for a modification in custody granted. While initial agreements may have been reached in an amicable manner, making changes to these agreements may be harder to accomplish. For one thing, you have to show the court that there has been a "change in circumstances" – meaning that something is different today than it was at the time the agreement was made. Then, you have to show the reasons that the change warrants a modification in custody.
Changing these child custody and parenting time arrangements may require not only that you engage in negotiations with your ex-spouse or your child's other parent, but might also require that you go to a "plenary hearing" which is like a mini trial. Our New Jersey child custody modification attorneys can assist you at this hearing. During a plenary hearing, courts in New Jersey will consider a list of factors which all have to do with the "best interest of the child", and will render a decision based upon the court's impression of what custody arrangement would be in the best interest of your child. A good legal counsel will fight for your child's best interest and help to represent your needs before the court. Your ex-spouse or the child's other parent will almost certainly seek representation of a law firm to stop the arrangements from being changed, so you need to make sure that you also are properly represented.
Finding a Child Custody Modification Lawyer in Ocean, Monmouth and Middlesex County
Once you decide that there is a need to ask the court to modify an existing custody and parenting time arrangement, you have to find an attorney who will best represent you. Many lawyers practice family law, but only some specialize in dealing with custody agreements. Working with a knowledgeable attorney who has experience specifically with child custody arrangements is important – schedule a consultation with a Goldstein Law Group attorney to find out more about our experience in this area of law.
You do not have to deal with the important issue of the custody of your child on your own. If you need help seeking a modification to your custody and parenting time arrangements, you should always contact a qualified child custody modification lawyer in New Jersey. Call the law offices of Goldstein Law Group today to get the help that you deserve. Our offices are conveniently located in Metuchen and Brielle. 732-967-6777.