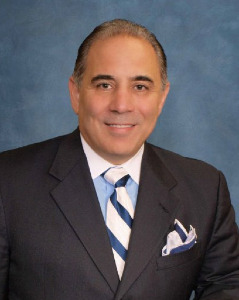 Mark Goldstein, Esq.
Partner
Let me give you some of my background and experience, to help you make this most important decision of selecting the best attorney for you and your situation.
I was born and raised in Brooklyn, New York. I went to Brooklyn College where I obtained my Bachelor's degree in accounting. After graduating college, I worked as an accountant for a small CPA firm where I developed a strong business and financial background for individual and business clients. Soon thereafter, I decided to further my tax and accounting background by going to law school. I attended New York Law School where I graduated with Honors in 1986.
While attending law school in lower Manhattan, I did an internship with the Internal Revenue Service Office of Chief Counsel, learning some of the ins and outs of their organization. Upon graduating law school, I took the New York and New Jersey state bar exams - passed them on the first try, too!. Upon graduating law school, I moved to New Jersey where I have lived since. My first job out of law school was at a Big-8 accounting firm, Deloitte Haskins and Sells, now known as Deloitte and Touche, where I worked as a tax attorney.
After doing a 2 hour commute each way from my home in central New Jersey to the 101st floor of the World Trade Center for the better part of a year, I had to find a job closer to home. In 1987, I was fortunate to meet my mentor, Frank Rubin, Esq. who took me under his wing and mentored me, molding and allowing me to become the knowledgeable, aggressive advocate and trial attorney I am today.
I have built up my law firm to comprise 4 other like-minded, hard working, caring and tough attorneys that form Goldstein Law Group. I attribute the success of myself and our firm to a combination of my education and work experience, coupled with the mentoring I received and the street smarts you get only from growing up poor, as the son of a truck driver, in Brooklyn, in the '60's and 70's! We fight, and we fight hard! Of course, we don't look to fight for the sake of fighting, and certainly, not at your expense. Rather, we always seek to resolve every case as amicably and expeditiously as possible, without the need for trial. However, rest assured, we are prepared for, and will zealously pursue your rights in court, as your situation may demand.
My strong tax and accounting background has uniquely qualified me to handle complex litigation matters involving high net worth divorce cases, especially those in which a business is involved, or there is unreported income issues. I also handle all types of family law matters including:
Divorce
Alimony / Spousal Support
Potential Termination of Alimony Payments
Child Custody and Visitation
Child Support
College Contributions between Divorced Parents
Because of my strong business background, I also represent clients and businesses in business disputes and break-ups of partnerships. If you think you have a partner that is stealing from you, or embezzling monies, contact me. I have developed a strong working knowledge of QuickBooks that allows me, typically in conjunction with a forensic accountant, and in combination with my own strong accounting background, to discover accounting and other financial fraud.
A large part of our practice also includes estate planning, probate and administration of estates, and estate litigation.
Why should you hire me and my firm?
When I was in law school, I learned that most of my peers and fellow students all majored in college in either political science or perhaps were English majors, fairly common practice for those individuals who knew, in college, they wanted to continue on to law school. I didn't know that. Instead, I obtained my accounting degree, thinking I was going to be an accountant the rest of my life. After a full year of that, I realized it wasn't for me. Then, I went to law school. The accounting and tax experience I obtained however, has proved invaluable in my legal career in these specific areas of the law, giving me an edge, in my opinion, over my peers who may have majored in English or poli-sci.
Having lived and worked in New Jersey now for 34 years, when you get to meet or speak to me, you'll see that my Brooklyn accent is mostly gone (it comes out sometimes!); however, once you hire me and my firm, you'll see the Brooklyn street smart and fight is still burning strong. And, that's the person you want fighting for you and for your family!
Still not sure if me and my firm are right for you? Call or email me now. Let's talk about your situation. Then, you decide.
Mark Goldstein.
Education
J.D., New York Law School, New York, New York, 1986
B.S., CUNY, Brooklyn, New York, 1982
Major: Accounting
Bar Admissions New Jersey, 1987
New York, 1986
U.S. District Court Southern District of New York, 1986

Professional & Bar Association Memberships
New Jersey State Bar Association