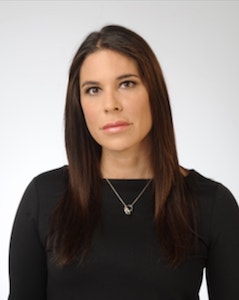 Lisa Steirman Harvey, Esq.
Associate
Ms. Harvey has been exclusively practicing family, matrimonial and divorce law for almost two decades. She is a widely respected and skilled litigator, mediator, negotiator and advocate, representing clients in all areas of family law, including, but not limited to, divorce, child -custody, child support, domestic violence, post-judgment disputes, prenuptial agreements, mid-marriage agreements, grandparent rights, as well as extensive appellate issues.
Ms. Harvey brings large firm experience, having previously worked at some of New Jersey's largest firms, where she represented clients in all aspects of family, matrimonial and divorce law. Ms. Harvey joined the Goldstein Law Group to utilize her extensive experience and skills to provide the best possible legal representation to our clients.
Ms. Harvey has written numerous publications, blogs, and articles and has appeared on multiple broadcasts on a myriad of family, matrimonial and divorce related issues. She has also spoken at numerous conferences and seminars regarding her legal experience and all matters of law relating to matrimony and all circumstances related to divorce. She is highly proficient in legal research, with close to two decades experience in legal and non-legal complex research and possesses extensive experience negotiating and drafting all types of legal contracts.
Her lengthy experience practicing law in this field has made her knowledgeable in the structure and workings of corporations and business, having dealt with the valuation of such businesses (working with forensic accountants and independently), as well as the multiple theories of valuation, the concept of reasonable compensation, capital, profits, etc. Ms. Harvey is able to read, understand, and analyze financial documents (personal and business tax returns, business evaluations, corporate agreements and documents, subpoenas, third-party agreements, real estate and trust documents, etc.).
Ms. Harvey graduated, with honors, from Rutgers School of Law in Newark, New Jersey in 2002. She is a member of the New Jersey State Bar Association. She is also an elected member of Phi Beta Kappa Honor Society, widely recognized as the most prestigious honor society in the nation.
Ms. Harvey is a public elected official in her hometown where she serves as a member of the Board of Education, which allows her to pursue the best interests of children in her home community.
Ms. Harvey believes that each of her client's has his or her own unique situation that deserves both her compassion and her zealous advocacy in order to obtain the best result possible. She understands when the needs of her clients require her to utilize her extensive skills as a negotiator, or when those same needs require her skills as a seasoned litigator. Fortunately, she is both an accomplished negotiator and litigator, who is fiercely dedicated to each client. Whether negotiating with an adversary across a table, or litigating in front of the Court, Ms. Harvey is not satisfied unless each client receives the legal outcome he or she deserves.
Education
J.D., Rutgers School of Law in Newark, 2002
Graduated with honors
Bar Admissions New Jersey

Professional Memberships
New Jersey State Bar Association
Phi Beta Kappa Honor Society
Awards
Selected as a 2006 "New Jersey Rising Star".
Publications
Maeker v. Ross, 62 A.3d 310 (App. Div. 2013).
"Evidential Standards of Custody & Timesharing Reports: Are Reliability and Validity Taking a Back Seat?", published in the New Jersey Law Journal 2006.
New Jersey Family Law Digest, January 2003, 2004, and 2005
"Steneken's Making Some Double-trouble", New Jersey Law Journal, 9/6/04
"Who Ate the Cookies, Mom or the Children?", New Jersey Law Journal, 8/4/03